Diaphragm GAS MeterS
For domestic, commercial and industrial applications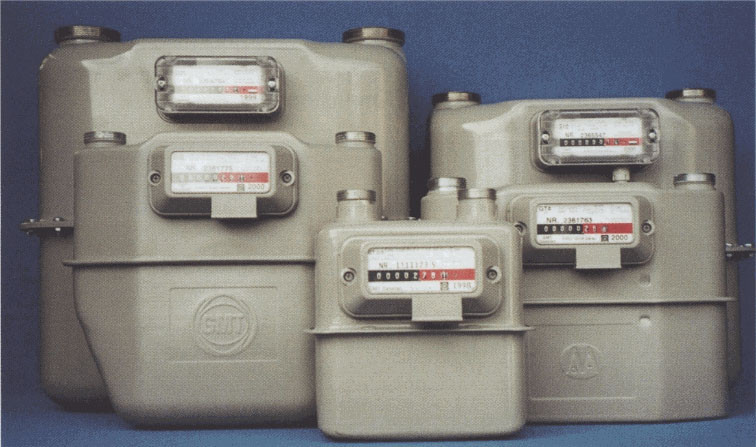 General Information
Diaphragm meters have a tradition for an extended service life, a wide measuring range, long term measurement stability and maintenance free operation.
Main Elements
All diaphragm gas meters have pressed steel casings with an internal and external protective coating against corrosion. A measuring nodule is inserted into the casing to form a complete unit. There is a magnetic coupling that transmits the meter movement to the 8-digit index counter on the front panel. The meters have a maximum allowable working pressure (WP) of 0.1 bar.
Principle Advantages
Fire safe to DIN 3374 and EEC requirements
Synthetic diaphragms
Unrestrained mounting of the measuring module
Temperature range of -20°C to +60°C
4 pole suspended magnetic coupling
Repeatable error curve
Ease of installation - no upstream or downstream pipe requirements
Low noise level
Low pressure loss
LF Pulse Output Option
All meters may he supplied with an optional LF pulse output with reed contact (volt free). This facility enables remote totalisation and is ideally suitable for energy management systems. For connection details see "LF Pulse Output Details" Data Sheet 2 which is supplied with each meter.
Installation
The gas must flow through the meter in the direction indicated on the meter. When viewed from the front looking at the index counter the gas flow is from left to right and the pipe connections should be:
inlet connection - left hand side
outlet connection - right hand side
When bringing the meter into operation care must be taken that any flow control devices in the line, before or after the meter, are opened slowly. This prevents meter overload due to excessive starting speeds. The line should always be shut off gradually.
Note: Diaphragm gas meters are precision measuring instruments manufactured to exacting tolerances and should be treated accordingly. Rough handling must he avoided. Excess pressure or any impact can cause damage to the metering unit, even if the casing shows no visible damage. Note that the maximum working pressure is 0.1 bar.
Typical Accuracy Curve

Diaphragm Meter Technical Details and Dimensions
Type

Q max
m3/hr

Q min
m3/hr

Max WP bar

LF Output
m3/pulse

Size
mm

Dimensions mm

Weight Kg

A

B

C

D

E

GT2.5

4

0.025

0.1

0.01

20 Screwed

110

212

69

208

162

1.9

G4

6

0.12

0.1

0.01

20 Screwed

152

285

50

230

165

2.9

G6

10

0.06

0.1

0.01

25 Screwed

250

291

85

330

199

4.0

G10

16

0.10

0.1

0.1

40 Screwed

280

330

108

405

234

5.7

G16

25

0.16

0.1

0.1

40 Screwed

280

330

108

405

234

5.7

G25

40

0.25

0.1

0.1

50 Screwed

335

398

138

465

299

10.0

G40

65

0.40

0.1

1.0

80 Flanged

510

675

172

684

376

66

G65

100

0.65

0.1

1.0

80 Flanged

640

870

197

840

426

90

G100

160

1.00

0.1

1.0

100 Flanged

710

1000

265

920

562

142