Pete's Test Plugs
For pressure and temperature measurements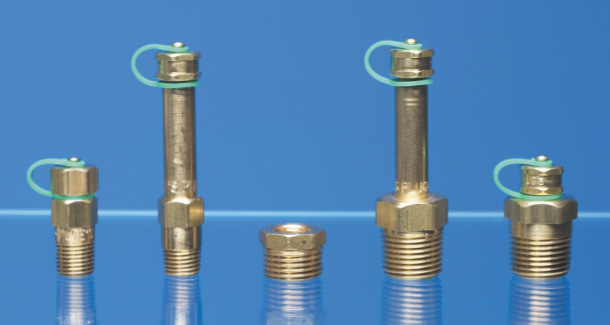 General Information
Pete's Test Plugs allow pressure or temperature readings to he taken quickly and are designed to eliminate the need for gauge cocks and thermometer wells. These test plugs have wide application; popular examples of their use include hot and chilled water systems, heat exchangers and pumps.
This enhanced version of Pete's Plug is the only pressure and temperature test plug with two selfclosing valves. The values are improved with interaction, which speeds valve closure and so improves safety.
Benefits
Fitted with twin-core valves giving added safety
Can be used for pressure and temperature measurements
Easy to install
All Pete's Test Plugs have cap-retaining straps
Full range of sizes available for all applications
Test plugs are permanently installed in the line
Brass material to CZ121 specifications available with colour options of red, blue, yellow or green
Nordel is a compound giving excellent service in hot and cold water applications
Operation
The Pete's Test Plug is permanently installed in the line at recommended test points. The cap protects the valve and provides an additional seal. After the cap has been removed either a test thermometer or pressure gauge adaptor can be inserted through the two self-closing valves.
Tests should be made as quickly as possible since the valve reseal time is dependent upon time of insertion.
Technical Information
Body cap and retainer - brass¹
Cap-retaining strap - santoprene²
Valves - Nordel³
Temperature range - 0°C to +135°C Maximum working pressure - 34 Bar
Model 710 ½" BSP standard length

Model 110 ¼" BSP standard length

Model 900 ½" to ¼" bush reducer

Cap and gaskets
Cap-retaining strap
Two self-closing valves
Valve body
Valve retainer

Model 71OXL ½" BSP extended length

Model 110XL ¼" BSP extended length

Model 900 ½" to ¼" bush reducer
Pressure Gauge Adaptors
The Pressure Gauge Adaptor has a ⅛" diameter probe constructed of 316 stainless steel and a ¼" BSP brass connector for connection to instrumentation gauges. The Model 500 adaptor is for use with standard length Pete's Test Plugs and the Model 500XL is for use with extended length Pete's Test Plugs.
1. ¼" BSP gauge connection

2. Union nut and seal

3. ⅛" stainless steel probe

4. Protecting cover (aluminium)
Note: The use of silicone oil is recommended as a lubricant when inserting probes to avoid possible damage to the lest Plug's valve cores.
Ordering Information for Pete's Test Plugs
| | | | |
| --- | --- | --- | --- |
| Model No | Size | Body & Cap Material | Length |
| 110 | ¼" BSP Standard Length | Brass | 40mm |
| 110XL | ¼" BSP Extended Length | Brass | 80mm |
| 710 | ½" BSP Standard Length | Brass | 40mm |
| 710XL | ½" BSP Extended Length | Brass | 80mm |
| 900 | ½" to '/4" BSP Reducer Bush | Brass | 18mm |
Ordering Information for Pressure Gauge Adaptors
| | | | |
| --- | --- | --- | --- |
| Model No | Size | Connector / Probe Material | Length |
| 500 | ¼" BSI' Gauge Adaptor Standard | Brass / 316SS | 35mm |
| 500XL | ¼" BSP Gauge Adaptor Extended | Brass / 316SS | 75mm |